Lala Roberts: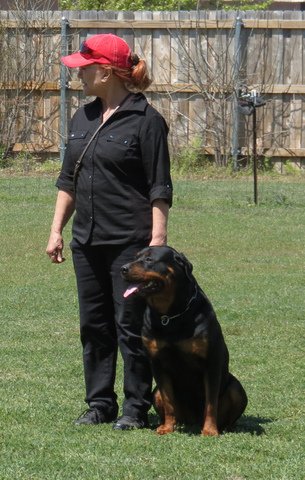 Vice President
1-817-937-3333
Owned Rottweilers for over 25 years
Lives in Waxahachie, Texas
I have titled two Rottweilers to IPO titles.

My Rottweiler, Lucky B, was a male who I titled to BH & IPO. He developed cancer at age 5 and I had to euthanize him two weeks after we achieved IPO
My current Rottweiler, Drybrucke's Brio, has been owner/handled/trained to BH and IPO. She cannot show as she developed pyometra with a closed uterus so it was necessary to spay her to save her life.

I was heavily involved in USRC for over 21 years. I was a Regional Director overseeing seven clubs in my region. We were one of the most active regions of the USRC. I was also Head Breed Warden.
My club held regional shows, club shows and the 2006 Schutzhund Championships & National Sieger Show. It was a very show and a very good turnout for the trial.
There is a group forming a RKNA club in Texas that I have been invited to become involved with. However, everything is at a standstill due to the social media actions of the current Board – it is very distressing to this new group to witness what is happening on social media.
I have been heavily involved in Rottweiler rescue. I developed the American Rescue Rottweiler Foundation (ARRF). In a 4-year period, I spayed & neutered and adopted out over 1,000 Rottweilers. I gave a free obedience lesson to each owner.
I have been in the insurance industry for over 25 years. My portfolio included 35 employees under my supervision. I am currently semi-retired.
I am experienced with the Rottweiler FCI standard and with FCI IPO rules. I have the ability to work with many pet people as well as many experienced IPO people. I am a member of DVG and RKNA. I was a member of USCA and I was my local USCA club's Secretary.