Lisa MacGillivray: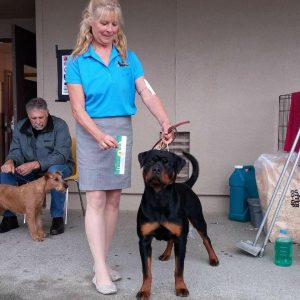 Treasurer & Director of Regions
1-250-668-2436
I believe in the vision that ADRK continues to have for the Rottweiler and feel that RKNA has the ability to be a comparable program and an excellent component of the ADRK family representing North America both in show and in IPO work. I feel I could be an asset to the program and help it grow in positive ways within the scope of the position of Director of Regions.
I have owned, bred, and trained Rottweilers for the past 30 years.
I am well versed with a deep understanding of RKNA show rules, SE and Ztp rules. I know and understand FCI IPO rules. I have qualified to enter the RKNA show judge's apprentice program. My next step is to meet requirements to enter the RKNA IPO judges' program and only need to title a Rottweiler to a FH and will then have met requirements.
I have titled two Rottweilers to IPO 3, both of which have qualified us for the RKNA IPO 3 club

Osbourne v Schwaiger Wappen
RKNA CH, 2015 RKNA Kombi Sieger
2014 RCC Canadian National Sieger, Multi V1 in Canada & in USA, RKNA Silver Merit, BH, IPO 3, SE, Ztp
Roselyn v Rangau, RKNA CH, Multi V-1, RKNA Silver Merit, BH, IPO 3, AD, SE, Ztp

Lisa MacGillivray

Other Rottweilers I have titled and am currently working with are:

Gizo vh Edelstein, IPO 1, BH, SE, CKC CH, V1 Canadian National Sieger Show
Vickie v Rangau, BH, SE, CGN
Truda v Schwarzerwald, BH, AD, CGN (currently 18 months)
River v Schwarzerwald, VP1 & Best Male Puppy (currently 21 months)
Elan vd Jasper Ranch, VP2, CKC CH pointed (currently 10 months)
Carma v Eiche Park (15 months)

I have traveled to and participated at RKNA shows in Canada and the US, specifically: Miami, Florida; Norco, California; Phoenix, Arizona; Sacramento, California.
I have trialed every year for the past 4 years at the RKNA IPO Championships.
I have a wealth of experience working with people and negotiating agreements.
I am the Union Shop Chair for a hotel with 110 workers whom I represent.
For the past 15 years I have dealt directly with people from varied cultures as well as the general manager in order to come to agreements to ensure work runs smoothly.