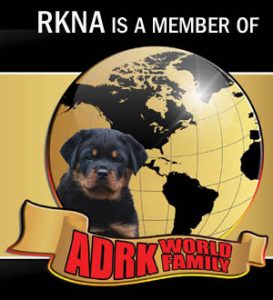 RKNA Invites Members & Clubs to Join
Membership is open to all countries.
RKNA events are sanctioned and approved by RKNA.
Co-operation working partnership agreement between ADRK & RKNA effective January 1, 2011.
RKNA is supported and recognized by ADRK (Allegmeiner Deutscher Rottweiler Klub).
RKNA is a member club of ADRK World Family.
ADRK and RKNA share the common goals to preserve the Rottweiler in association with ADRK Breed and Performance standards.
RKNA offers the following activities to members and member clubs:
Scorebooks recognized and approved by ADRK (ie this means the RKNA scorebook can be used at ADRK trials and breed surveys in Germany)
FCI  scorebooks via the ADRK. As the scorebooks carry the FCI seal on the face, no IPO organization in the world can decline the scorebook or refuse to accept the score recorded therein.
RKNA trial results can be recorded in ADRK dog data base and on ADRK & FCI pedigrees
Release of conformation judges licensed with ADRK, FCI to RKNA shows & breed tests
Release of IPO judges licensed with ADRK, DVG Germany & FCI to IPO trials.

RKNA is the only IPO organization in USA & Canada where trial results are recognized by ADRK and titles do not have to be redone to trial at a higher degree. For recognition, the following conditions must be met: (1) the title must be earned at a RKNA trial, (2) the dog must carry either a RKNA or ADRK scorebook, (3) the dog must be a registered Rottweiler.

Standardized breed tests (Ztp)
ADRK type conformation shows
RKNA CH title
New in 2016! RKNA Elite Champions are eligible to participate in the champion class at all ADRK shows including the ADRK KS and the ADRK World Show
Tracking tests for FH degree
Endurance tests for AD award
Obedience/traffic sure test for BH degree
Members can submit hip/elbow xrays to ADRK for evaluation
RKNA sends a team to ADRK World Championship each year
Scorebooks for Rottweilers
Activities to ensure the development and maintenance of the Rottweiler as a working breed